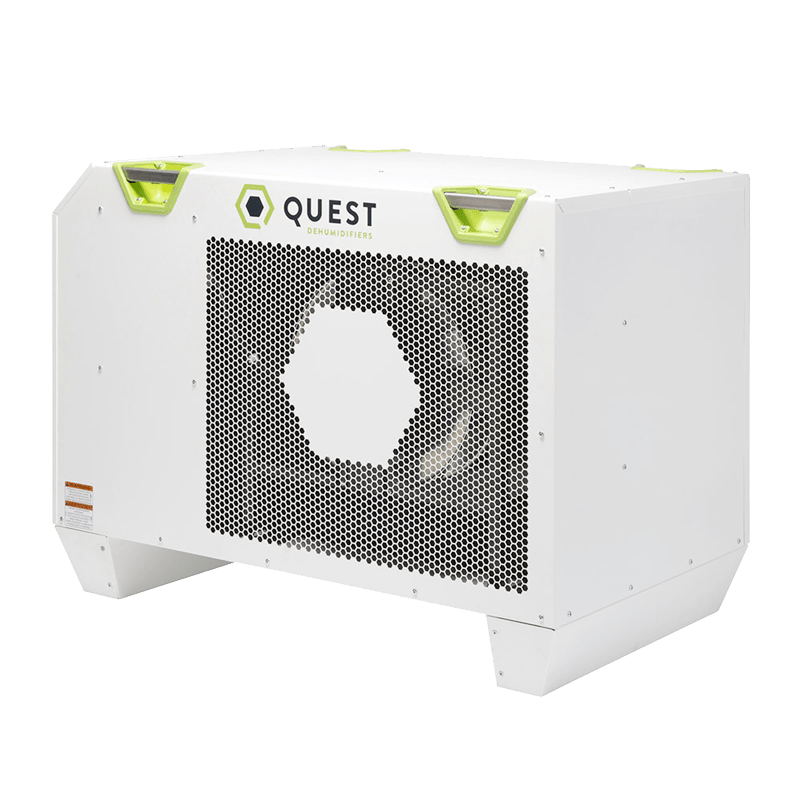 Quest
506
High-Capacity Series
With patented coil technology - unlike anything else on the market.
Water Removal
506 Pints/Day
63.2/239.4 Gallons/Liters
Supply Voltage
230V, 60 Hz
Powerful and efficient, the Quest 506 is the industry's first 500-pint dehumidifier and is perfect for agricultural applications as well as tough commercial spaces. Its 506 pint capacity makes it one of the most powerful commercial dehumidifiers on the market.
Commonly used in indoor growing facilities, greenhouses, warehouses and other large industrial areas, the 506 dehumidifier is available for a variety of uses and installations. This Quest dehumidifier is proudly made in America, can be hung or placed on the floor, and offers an impressive MERV 13 filtration system.
Industries
Agriculture
Distribution & Logistics
Energy & Utilities
Food & Beverage
Industrial & Manufacturing
Inside Self-Storage
Natural Supplements
Science & Technology
Sports & Recreation
MERV 13 Filtration
Captures dangerous airborne particles
Ductable
Intake and exhaust kits are available
UL Rated and ETL Listed
The highest T7 standard
High Effiency Performace
No dehumidifier is more efficient
Made in the USA
Built to last
Integrated Handles
For easy movement
Patent Pending Coil Technology
Unlike anything else on the market
Overhead or Ground Placement
Built to fit what works for your space
MSRP
Starting at $7,213.95
Product Specifications
Power (Watts)
2700 @ 80°F and 60% RH
Supply voltage
220-240 VAC - 1 Phase - 60 Hz.
Water Removal (Pints/Day)

506
Efficiency (Pints/kWh)
8.1
Unit Dimensions
28.9"W X 33.8"H X 44.7"L (73.4CM X 85.9CM X 113.5CM)
Product Downloads