Protect Your Facilities. Protect Your Goods.
High levels of humidity and condensation can cause all kinds of problems in the food and beverage industry. Excessive moisture can lead to injury, unscheduled downtime, maintenance problems, loss of income, food safety and product quality issues, just to name a few. To ensure your production and storage facilities or retail grocery spaces runs at peak efficiency, it's critical to find the sources of your high humidity and address them.
WHen you need climate precision, count on Quest
A proactive step you can take to reduce the amount of moisture inside your food and beverage processing plants, storage facilities and retail grocery spaces is to choose a dedicated dehumidification system. Quest dehumidifiers eliminate everything from hoar frost, mold, overhead condensation, excess humidity after washdown cycles, and slips and falls on the production floor and in shop-in coolers. Additionally, our desiccant and portable dehumidifiers are perfect for managing latent loads in semi-refrigerated prep rooms and can reduce humidity from infiltrating stores.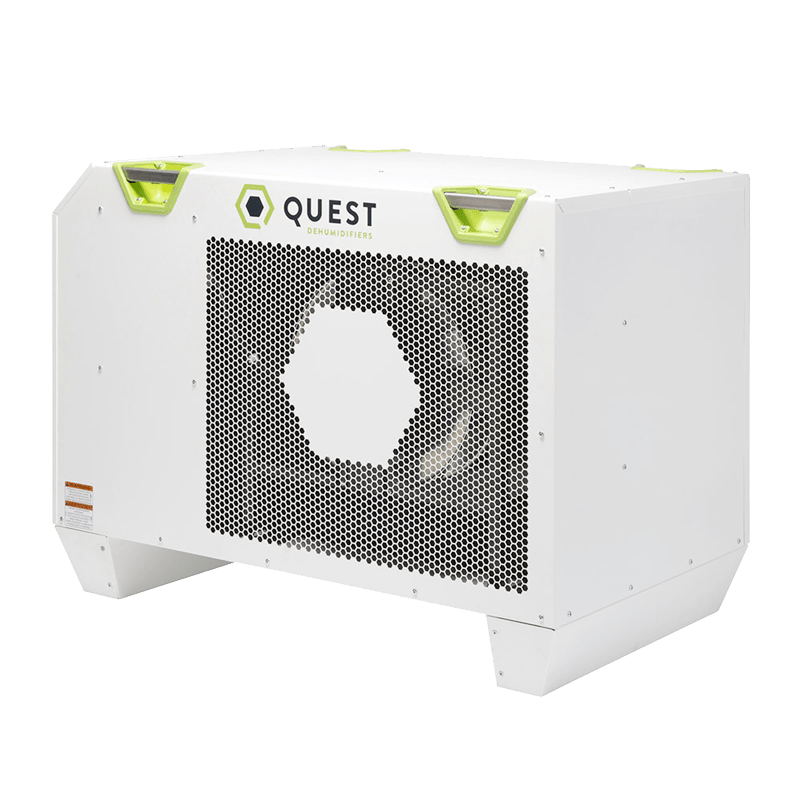 Applications
APPLICATIONS
Baked goods
Beverages
Breweries
Dairy: ice cream, cheese and whey
Flavors and ingredients
Frozen foods
Fruits and vegetables
Grocery and convenience stores
Meat processing
Plant-based foods
Solutions
Solutions
Humidity control is critical to ensure moisture doesn't damage your products or put your employees at risk. Quest is on a mission to bring simple, expert-backed moisture control solutions to our customers.
Grocery Store Design Tool
GROCERY STORE DESIGN
HUMIDITY CONTROL DOESN'T HAVE TO BE DIFFICULT.
FIND YOUR PROBLEM.
SEE THE SOLUTION.
Address store humidity the right way.
A new, integrated approach to controlling your environment from Quest saves money, improves store climate and helps improve aesthetic and safety issues. The key: Let each piece of equipment focus on what it does best.
Energy Efficient
Drawing on very few amps, Quest dehumidifiers provide sound energy-saving solutions.
Portable
Many of our compact, high performing dehumidifiers are portable and can be easily moved throughout your facility where needed.
Top Food & Beverage Concerns
Food quality
Safety
Regulatory issues
VIDEOS
Quest Solves Your Production Moisture Problems
Quest Dehumidifiers help improve the consistency and productivity of your process while reducing waste and cutting down costs with highly efficient moisture control solutions.
NEWS & EDUCATION
Food & Beverage News and Education
If you run a business – regardless of the industry – it's no secret that increased ventilation has become a hot topic since the pandemic took hold earlier this year.…
Read More